Hi,
I'm from the Philippines and started this hobby since 2012 with a more or less 100g display tank but have to abandon the tank 2 years after as we have to move to a new house and unable to bring the tank. Now back to the hobby due to the pandemic currently working at home and have enough time to setup a tank. I got a 75g tank last year and now running for 7 months.
but I was thinking when all is back to normal I'am mostly away from home for work and unable to monitor my tank so I setup my old Arduino controller (Reef Angel) but its 10yrs old and most modules are damage. Tried to contact old supplier but out of business. As I was searching the net with all of those expensive controllers... just too expensive for me... then I stumble upon reef-pi but don't have the time to build all those modules.
Then found Robo-tank and it was my solution and anydesk for my remote access. Luckily I have and extra raspberry-pi 3 B.
Just completed setting up my Robo-Tank V3 controller on my 75g mix reef tank and reef-pi UI redesigned.
Controller:
 *Robo-Tank (
reef-pi 
raspberry-pi 3 B) 
 *Remote access (AnyDesk for raspberry)
Controlling:
AC Equipment
  - Return Pump
  - Chiller
  - Skimmer
  - Wave Makers
  - ATO Pump
  - Cooling Fans
  - Display Tank Lights
  - Refugium Lights
  - Salt mix pump/mixer
  - Drain pump
  - UV Filter
  - Air pump
SENSORS
  - Display tank low water sensor (optical)
  - ATO water (float)
  - Salt mix (optical)
  - Return pump malfunction (optical)
  - Temp Probe (Display, Lights, cabinet and Robo-tank cabinet) (2 on sensor module)
  - PH
  - DIY EC - Salinity
  - Buzzer (connected to feeder port)
    *will alarm on low water detection on display tank
DC
 - 6 DIY dosing pump (12V DC pump)
Lights
  - DIY moonlight (Analog) 5V LED strip (blue-green lights only) [Lunar]
  - Phyto Farm Lights (Analog) 5V LED grow lights warm white [Diurnal]
  - Phyto Farm air pump (Analog) 5V DC air pump [fixed]
Got the V2 last year and was amazed of its functionality and compact design when I heard of V3 early this year I replaced my V2 and played with it. nothing much to compare as both version works well. I like the compact design of V2 as all wiring on one area but it leaves a mess on all of those wires and cable. The modular design of V3 makes it easy to setup all function separately and less cable mess :)
DIY Doser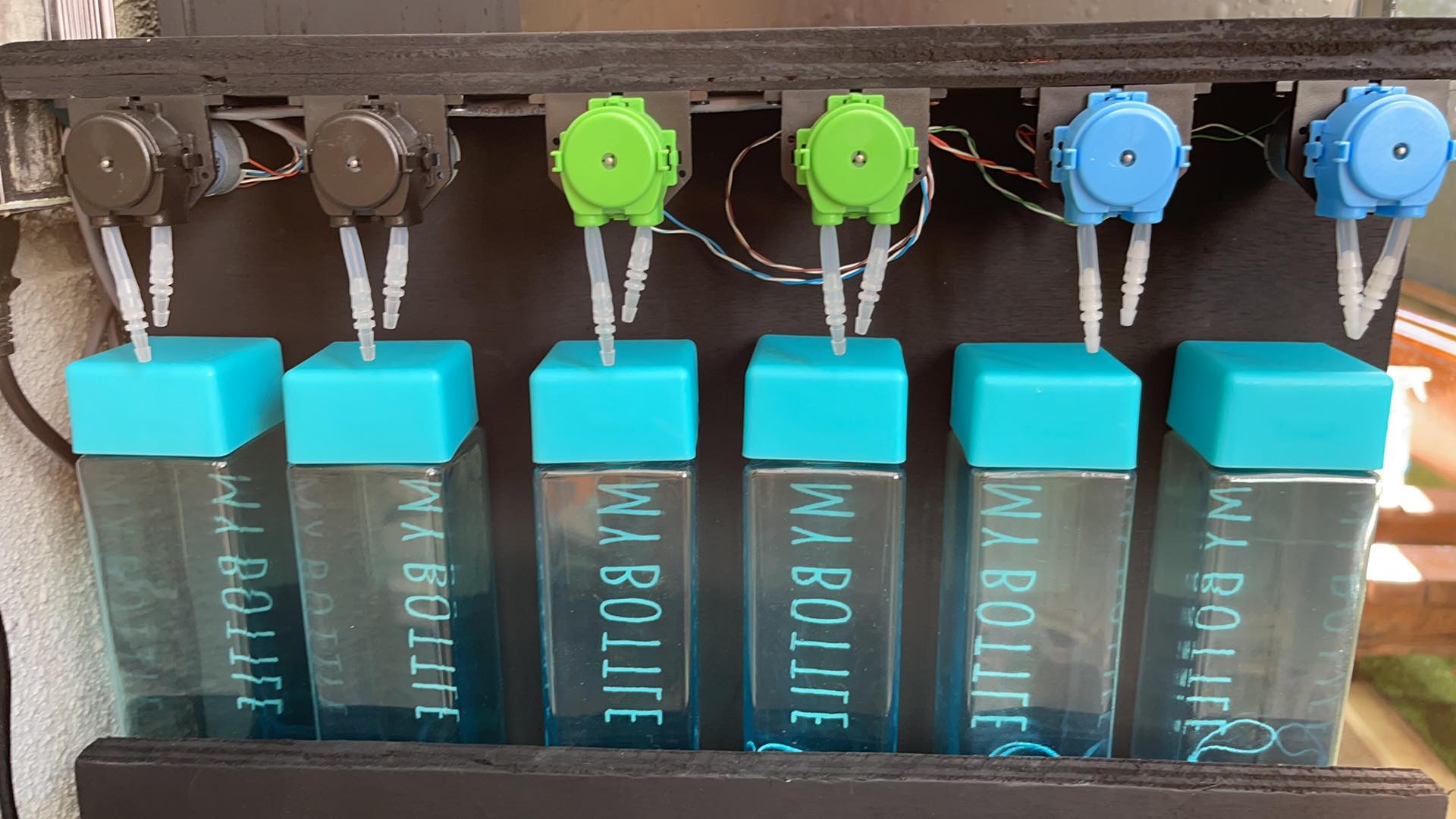 reef-pi